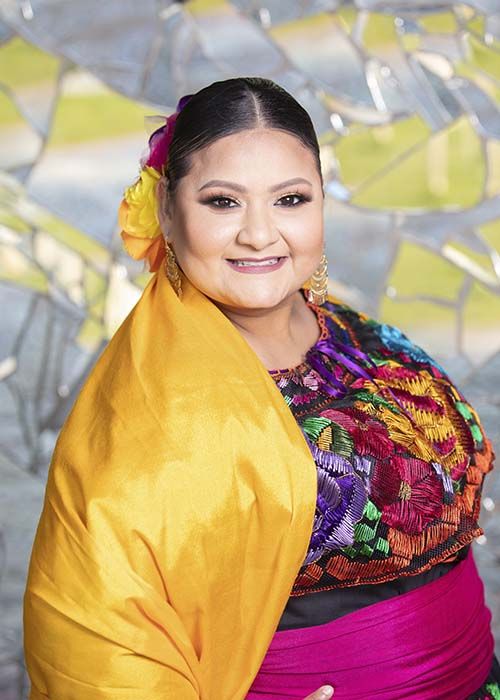 Vanessa Alonzo
BIOGRAPHY
Houston Native, Vanessa Alonzo, initiated her ranchera training with the late Alfonso Guerra at Multicultural Education and Counseling through the Arts (MECA). Alonzo originated the role of Lupita in the premiere of Houston Grand Opera's El Milagro del Recuerdo by Leonard Foglia and Javier Martinez in 2019. In 2021, she reprised the role with Arizona Opera and Houston Grand Opera in 2022.
She is an original cast member since 2010 for Jose 'Pepe' Martinez and Leonard Foglia's Cruzar La Cara de La Luna/To Cross the Face of the Moon, in which Ms. Alonzo created the role of Lupita. Alonzo reprised the role of Lupita in Cruzar La Cara de La Luna nationally at Houston Grand Opera, Lyric Opera of Chicago, San Diego Opera, Arizona Opera, Fort Worth Opera sharing the stage with world-renown, Mariachi Vargas de Tecalitlan. Alonzo reprised the role of Lupita accompanied by multiple Grammy award-winning Mariachi Los Camperos in 2018 for New York City Opera and El Paso Opera. Internationally, Alonzo has performed Lupita in Paris, France at the Théâtre du Châtelet and in Quito Ecuador at Teatro Nacional Sucre.
In 2015, Alonzo also created the role of Juana for the second mariachi opera, El Pasado Nunca Se Termina/The Past is Never Finished also by Foglia and Martinez. She was part of the tri-city premiere tour with Lyric Opera of Chicago, San Diego Opera and Houston Grand Opera with Mariachi Vargas De Tecalitlan. Alonzo reprised the role as part of the Fort Worth Opera Festival in 2019 with Mariachi Nuevo Tecalitlán. Alonzo's mariachi style has welcomed opportunities to sing for various prestigious events such as Houston Grand Opera Ball in 2019 with Mariachi Los Camperos and Minnesota Opera's Ópera Afuera at Allianz Field in the Fall of 2021. She was also accompanied by Trío Chapultepec for Austin Opera's Concerts at the Consulate series. Then she performed for Southbend Symphony Orchestra for their Día De Los Muertos 2022 festivities, also joined by Trío Chapultepec.
Vanessa was awarded the International Leadership Award by the Texas Women's Empowerment Foundation in 2014 for her outstanding career. In 1999, she won the Best in the US Vocalist in the Mariachi Vargas Extravaganza vocal competition. A competition judged by the world renowned Mariachi Vargas de Tecalitlan. Her notable credits include tours to Ireland, Mexico, Norway, and Vietnam with MECA Mariachi. In 2002, she performed for the opening ceremonies of the Winter Olympics in Salt Lake City with MECA Mariachi. Television credits include El Show de Cristina on Univision as a participant in Festival de Rancheras and a finalist on Estrella TV's Tengo Talento, Mucho Talento in 2011. She was a participant of the 1999 and 2000 Encuentro Internacional del Mariachi y Charrería in Guadalajara, Jalisco.
This email address is being protected from spambots. You need JavaScript enabled to view it.