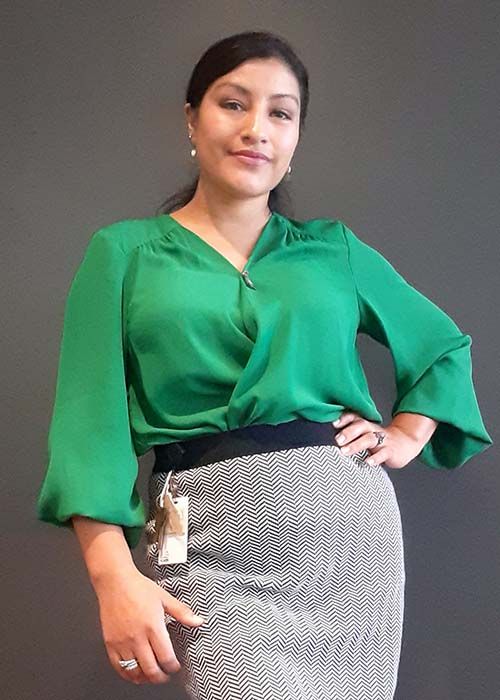 Maria Segari
BIOGRAPHY
María Segari is an  accomplished individual with a diverse range of skills and experiences. Born into a family of indigenous Mazahua farmers in the State of Mexico, she has overcome various challenges to achieve success in her personal and professional life.

From a young age, María displayed exceptional talents in several fields. She actively participated in rhetoric, debate, declamation, mathematics, and science contests, representing her state at the national level in Elementary and Middle School. Her dedication and passion for these subjects set her apart from her peers.

In addition to her academic pursuits, María has a strong affinity for contact sports. She holds a first Dan black belt in Tae-kwon-do and has practiced Kung Fu, Judo, and Mixed Martial Arts. She showcased her skills as a member of her state's Taekwondo team in Mexico, achieving an undefeated record for two consecutive years and securing five
knockouts in a single year. María also ventured into amateur mixed martial arts fights in the United States, further demonstrating her commitment and discipline in the realm of sports.

María's love for art is evident in her multifaceted involvement in creative and artistic endeavors, as well as her active participation in supporting her community. Art provides her with a means of self-expression, exploration, and connection, and she wholeheartedly embraces its power to inspire, transform, and bring people together.
Through her love for art and dedication to her community.

María Segari creates a harmonious blend of creative expression and social responsibility. By leveraging the power of art, she actively contributes to the cultural fabric of her community, fostering inclusivity, understanding, and inspiration. Her passion and commitment make her a valuable asset to the artistic and social spheres, enriching the lives of those around her.

Throughout her educational journey, María has exhibited strong leadership qualities. She served as the president of the student body at the regional level during her time at Preparatory School #6 in the State of Mexico. This experience helped shape her ability to take charge and organize diverse groups of individuals.

María's academic achievements include an associate degree in science from Houston Community College and a Bachelor's degree in Science from the University of Houston Downtown. Her majors were in Accounting and Business Administration, with a minor in Communication. She excelled academically, earning a place on the honor roll for two semesters and receiving the annual STAR AWARD for being the recognized student of the year at Houston Community College. She also secured a scholarship from the Gulfgate Community, underscoring her dedication to academic excellence.

María's professional expertise lies in the field of tax accounting. With ten years of tax practice, she is a Senior-Level Tax Accountant and has been certified by the Internal Revenue Service (IRS) of the United States as an Enrolled Agent with Acceptance Agent Licenses, EFIN , ERO and PTIN. She possesses more than 12 certifications in
various levels of fiscal practice, covering areas such as mediation of fiscal debts, audit review, corporate and individual tax reports, and partnership association formation. Furthermore, she is a master manager in Quickbooks and a registered Public Notary in
the State of Texas. Her extensive knowledge and experience in tax accounting have made her a valuable asset to her clients and the community.

Outside of her professional pursuits, María is actively involved in volunteer work and community organizations. She volunteers at the Baker Ripley House Taxpayer Support Center and Talento Bilingüe de Houston Center, offering her expertise to support and assist others. She is also an active member of various groups, including AVANZE
Houston, Houston Department of Transformation, and Millennials Houston, where she serves as a sponsor mentor for the youth group. Additionally, she is a founding member of Poetas Houston, Inspiring Latino Awards, LULAC #22421, Kids for Congress and a member of Nuestra Palabra Literature Group, representing District A in Houston, Texas.

Overall, María Segari is an exceptional individual who has achieved success in multiple areas of her life. From her academic accomplishments and professional expertise to her dedication to community service and entrepreneurial ventures, María's diverse range of experiences showcases her commitment, determination, and passion for making a positive impact in the world around her.
This email address is being protected from spambots. You need JavaScript enabled to view it.