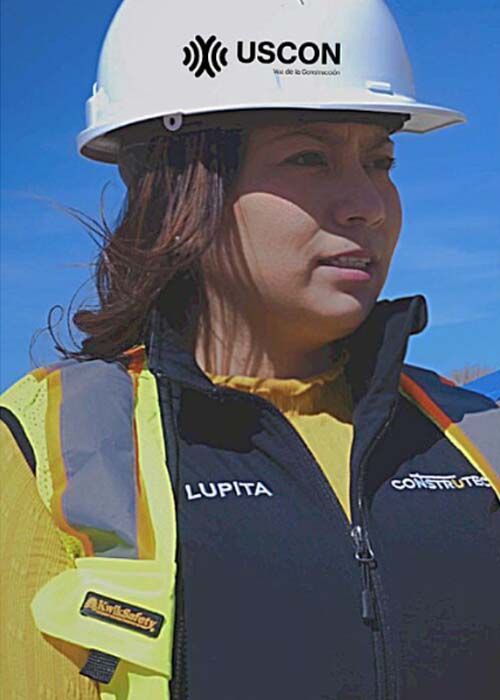 Lupita Vasquez 
BIOGRAPHY
Lupe Vasquez, co-founder of the US Council of Hispanics in Construction , started her story in construction since as a child. The story begins when her father ,a masonry laborer ,once took her to the job site , where she found herself locked in a potty room, but survived. She describes that as her moment of "surviving construction " as a woman. Additionally, she has always been in tune with the needs of upcoming Hispanic entrepreneurs culturally ,as a first generation US born,  Guadalupe experienced first hand the limitations a Hispanic can face due to language barriers and lack of information. As a bilingual adolescent, she grew up and played the role of a translator for many Hispanics in her immediate community. She knows works passionately to create for future Hispanic generations a support system to be successful leaders in construction at all roles and levels, just like she wished there had been as she grew up.
She later graduated from college , UofH, in business administration and after different roles she found her true passion working as a territory manager for Cemex,a global concrete supplier, with "boots in the ground" providing superior customer service and value to her customers primarily concrete contractors. She positioned herself, in the market as an influencer , " La Reina del Concreto " with popularity in social media for informing and connecting her network to make projects easier for all those involved . In this role, Guadalupe ,has collaborated with national materials brands like Caterpillar , White Cap, and national industry tradeshows to inform the Hispanic construction market in all trades.
Women are motivated by her drive and success in the industry , men respect her for the same.
With her marketing knowledge, she made her nickname a brand of a concrete blade as a symbol of a tool that" cuts through " stone, brick , concrete , ultimately "hard surfaces", which she describes figuratively, a woman in construction can cut through obstacles or perceptions and build a great future in a construction career for herself and others .
She then decided to bring all her knowledge , her rich network from the labor guy, owners, distributors to international manufacturers , and her strong influence in the industry together for a mission and vision . She is referenced as "La voz de la Construccion ", the Voice of Construction. She received the Luna Award for being an active advocate in Houston. At a national level, Guadalupe is the first and only Houstonian , top 10 Univisionarios, a recognition by the public , that highlights the most influential Latinos in the United States for their cause and support to the Hispanic community organized by Univision.
As co-founder of the national organization, the US Council of Hispanics in construction. USCON mission is to unite, inform and grow the Hispanic in construction community , from employees, students and business owners. USCON, is focusing on making minority construction business companies more productive. It is expected that by 2044, the US economy will depend highly on minority business and construction is one of the top six industries.
USCON offers resources, education, connections , events and more opportunities that is allowing construction minority business owners grow , get certified and connect to their county, city and state procurement opportunities as well as in the private sector. In addition, has teamed up with Construtec, the most innovative platform that is doing the same mission digitally thus allowing to make strides nationally quicker and digitalizing a Hispanic in construction arena. USCON and Construtec activities is placing their members in a more competitive field and consequently connecting them all to supporters of the council like general contractors , distributors, investors , and professionals service providers. Events are held monthly around the US, in states like Texas, California, Colorado, Nevada, the Carolinas , Illinois and states with higher Hispanic population.
This email address is being protected from spambots. You need JavaScript enabled to view it.