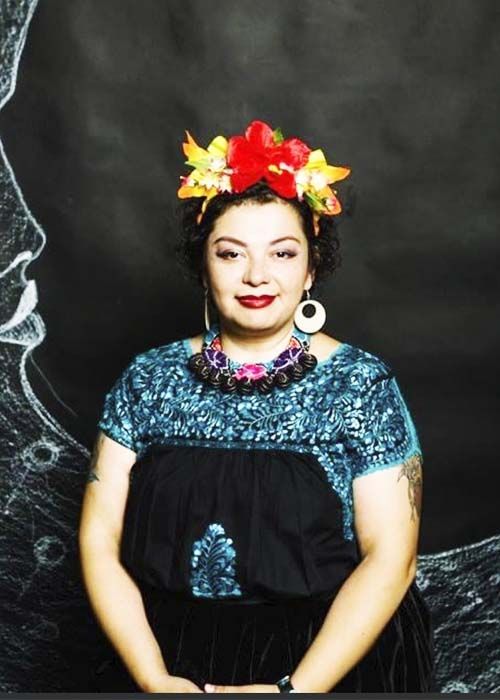 Lizbeth Ortiz
BIOGRAPHY
Lizbeth Ortiz graduated from HSPVA/Houston and attended Pratt Institute/NYC.

She has developed a singular style by utilizing recycled materials,
various modeling pastes, and gels in all of her art. "I love texture; I feel it is the perfect exclamation mark to create emotions, colors, and memories." Her work is both delicate in execution and strong in visual impact.

"Through my work, I share my passion and compassion for my familial culture and traditions. It is also through these two symbols, the skeleton and anatomic heart that I look for solace and understanding of the world that surrounds me."

"I witnessed the 9/11 terrorist attacks in NYC. I turned to my roots and created my first public 'Día de Muertos Altar". This became a part of my New York City show in October 2001.

"I believe the anatomically correct heart I use in my art is a universal symbol. Inspired by my Catholic roots, it is the sacred heart transcending economic, social, and racial barriers. I strive to inspire my community through my canvas and brush."

Biographical information
Born in Mexico City, raised in Houston, and thrust into adulthood in New York City certainly have influenced her work.

In 2005 along with a community of inspired artists, Lizbeth Ortiz organized the first Frida Festival in Houston.

In 2008 she was honored as the official artist for the Latin Grammy, celebrated in Houston.

Her painting is part of the Recording Academy Grammy Museum's collection in LA.

In June 2011 she received 2nd place in the Bohemia Beer - "The Kahlo Challenge".

In March 2020 she was honored for her contributions to the Arts in the Houston Community by Solo Mujeres Magazine in the 13 th Annual "Tributo a la Mujer Hispana" in Houston Texas.

In December 2022 she collaborated with Geraldina Interanio Wise on Modular Woman. The concept was introduced at Zoom'Art Magazine salón and gala in Paris.

Co-founder of MuXer HTX - a female collective whose mission is to provide a platform for artistic expression in all communities and cultures.

Currently, she lives in Houston where she follows her creative heart, making art, curating art exhibits for MECA and finding ways to elevate her community through culture and art.
This email address is being protected from spambots. You need JavaScript enabled to view it.